Manifestation Machine Founder and Author Cory Groshek to Work the BIG Book Sale in Green Bay, Wisconsin
Manifestation Machine founder and author Cory Groshek, in keeping with his stated desire to help others and make the world a better place, will be volunteering at the Friends of the Brown County Library's annual BIG Book Sale in downtown Green Bay, Wisconsin, assisting shoppers with carrying their purchases (the proceeds of which support local library-related reading programs) to their vehicles.
Groshek, a firm believer in the Law of Attraction, which states that "like attracts like", as well as the age-old adage "you get what you give", sees this event not only as an opportunity to benefit his community directly but also as a means of "practicing what he preaches", which is the philosophy of always giving more than you get and expecting nothing in return.
"I'm a big believer in the idea that you won't and, in my opinion, shouldn't get what you want until after you've helped someone else get what they want," says Groshek. "That being said, I'm not going into this event with my hand out, asking what my community can do for me, or how me working with the library can benefit me, but rather what I can do for my community, even if that means simply helping someone carry a heavy bag of books to their car."
[Disclosure: As an Amazon Associate, we earn from qualifying purchases. Accordingly, we would like you to know that the following content includes links to products and/or services on Amazon.com. If you make a purchase through these links, we will receive a commission from Amazon.com, which will support Manifestation Machine and help keep our content free. You will not incur any additional charges in exchange for your support.]
In addition to donating his time and body to the BIG Book Sale's efforts, Groshek has also agreed to donate several limited edition, autographed copies of his debut children's novel, Breaking Away: Book One of the Rabylon Series to the sale, in the hopes that they will "fly off the shelves" (or the tables, in this particular case) and land in the hands of the people who can benefit the most from them.
"The book is all about dreaming big, taking risks, trusting our gut, and choosing faith over fear in all we do, and those values, I believe, are desperately needing to be taught not not only in my community but worldwide," says Groshek. "So if by the end of the sale I've helped just one person carry to their car a bag with even a single copy of my book inside, I will go to sleep at the end of that week a very happy man, knowing that I've done my part to make this world, or at least my hometown of Green Bay, Wisconsin, a better place."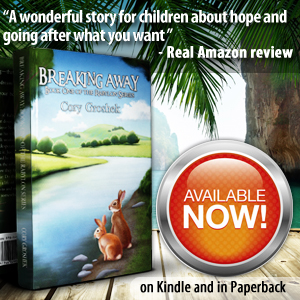 Groshek will be at the BIG Book Sale on the following dates:
Monday, 4/3/2017: 4:00 PM to 8:00 PM
Tuesday, 4/4/2017: 1:00 PM to 5:00 PM
Wednesday, 4/5/2017: 1:00 PM to 5:00 PM
Friday, 4/7/2017: 1:00 PM to 5:00 PM
Saturday, 4/8/2017: 11:00 AM to 3:00 PM
For more information on Groshek's participation in the sale, visit http://www.manifestationmachine.com/event/cory-groshek-the-big-book-sale-in-green-bay-wisconsin/.
For more information about the sale itself, including complete dates and times and/or to volunteer or donate, please visit http://www.bigbooksale.org/.
Thank you so much for taking time out of your busy schedule to be here today! We hope you've enjoyed reading this post as much as we enjoyed creating it!
Please leave a comment below and tell us how you feel about this post. And don't forget to check out the Manifestation Machine Forum where you can start or join a discussion about any success-oriented topic you like! We can't wait to hear from you, and neither can the millions upon millions of your fellow Mechanics!